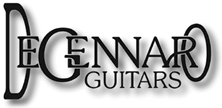 IMPERIAL JAZZ CAT-Archtop Electric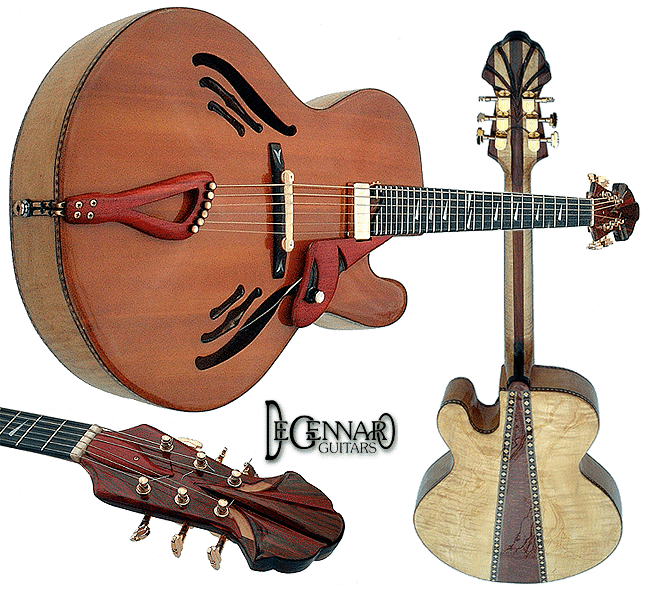 This is a racecar among ecomony cars! The archtop electric that unpluged sounds like an acoustic guitar!
Besides the all-important factor of having to sound better than the rest of the pack, this guitar plays fast and butter smooth. The neck is thin (can be made how you like it) and has been pulled out more than the standard (more frets). It got rave reviews from a number of really talented players at the NAMM show as being the sort of guitar that the jazz superstars would want to play. If you play archtops and have to have the best then you owe it to yourself to consider a DeGennaro!
There are two different guitars on this page, the description is on the bottom one. All things are customizable on my guitars though.
24 3/4" Scale
Body Style: DeGennaro's own design.
Soundboard: 3 piece top--aged cedar (quartersawn).
Sides: Hand-picked, aged, carved curly maple sides.
Back: 3 piece carved-- aged two piece cherry, one piece curly maple, marketry inlays.
Neck: 3 piece aged curly maple & cherry.
Fretboard: Ebony with m.o.p. and abalone flowered inlay.
Headstock: Burled elm veneer. The back of the headstock is carved.
Bridge: Ebony, adjustable.
Pickups: Suspended Jazz with volume control.
Machine Heads: Grover Deluxe.
Tail piece: Ebony with flowered m.o.p. & abalone inlay attached with antique hinge.
Pickguard: Veneered burl elm.
Binding: Ivory celloid.
Truss cover: M.o.p.
Finish: Nitrocellulose lacquer.
Price starts at $3000 for undecorated model
Custom model: call or email
As with all the instruments I make, details can be adjusted, customized, redesigned, etc. to suit your specific needs and wants.