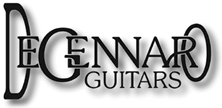 The Handmade Difference Guitar:
This amazing guitar had it's first showing at the 2005 NAMM show and took the place by storm! Everyone loved it except those easily intimidated by powerful objects. Besides being the kind of instrument that is worth it's weight in gold for it's stage presence, it also plays like a dream and sounds just like a demanding professional needs it to. A true one-of-a-kind guitar, this is an excellent example of what you get from DeGennaro Guitars.
Six string electric
Aged body woods-
walnut, bloodwood, zircote, mahoganys (african & hondouras)

Neckthrough-
aged cherry

Tuners-
Sperzel locking

Custom bridge
Pickup-
Seymour Duncan Hotrail, configured for 3 positions

Fretboard-
ebony with custom inlay

Fingernails-
figured abalone

Knobs-
heavy chromed diecast with inlayed mother of pearl

Truss cover-
figured abalone

Bridge platform-
mother of pearl

Headstock-
custom carved aged cherry hand with ebony overlay on wrist

Finish-
nitrocellolous laquer

Electronics cover-
walnut

Solid body sound in an amazingly lightweight guitar!
Special fit case included.
One of a kind
Price: call or email