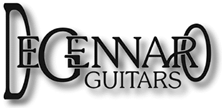 Repairs and modification work
I am also quite skilled at repairing those old and super valuable vintage instruments that most people are afraid to touch. I have taken many a blown-out guitar, restored it and made it sound and play better than it ever did.
Over the years I've owned, adjusted, repaired and refinished hundreds of vintage and modern factory guitars of all brands, shapes and sizes. This sort of real world knowledge that you can't get from taking a class is invaluable and goes into all the work I do on instruments.
I am located in the West Michigan area so instruments can be picked up for a small fee or dropped off rather than shipped if desired.