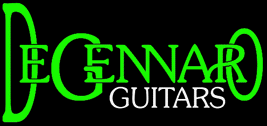 CUSTOM ORDERS

For custom orders it will be necessary to speak with you via email and then phone.
Begin by contacting me and explaining what you think that you are looking for. Tell me if you are looking to have a complete custom made or want one of my designs built and customized to your needs and wants.
To begin a custom order 50% of the final cost is required and the balance due on completion before delivery. You may also pay the entire cost up front in you wish or if it will help, payment options are also available and can be discussed when you contact me about an order.

All sales of custom orders are final. After delivery and acceptance of instrument no returns will be accepted.
If after receiving your new instrument you decide that you would like to alter the instrument in a way not not related to the original order, let me know and we will treat that as a repair / customization.

All purchases of a DeGennaro Guitar also get a CD, a t-shirt, a photo with you and your new guitar on our website (optional) and a link to information / website of your music project / band.


Pay online with PayPal, it's fast and easy!